Smartphone apps at your fingertips.
Our popular USB 2.0 Keyboard now has a stand for your smartphone — the most comfortable way to use your smartphone apps, when you're at your desk.
The non-slip silicone pad cradles your smartphone in place, and fits all smartphones — iPhone, Blackberry, Android, Palm, and others.
With thousands of apps available, this keyboard makes your smartphone (or iPod touch) even more useful than before...
Do quick calculations
Check your stocks
Twitter
Facebook updates
Custom Keypad & Trackpad apps to control your Mac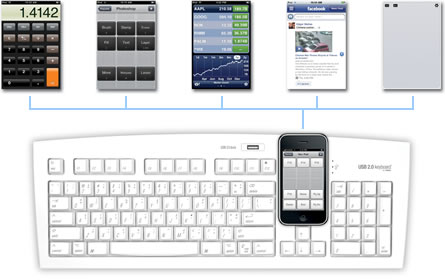 Recommended apps:

Keymote by Iced Cocoa

Make custom keypads to wirelessly control practically anything on your Mac from your iPhone or iPod touch.



TouchPad by Edovia

Transform your iPhone or iPod touch into a Multi-touch Trackpad, to remotely control your computer through WiFi.



Remote by Apple

Wirelessly control your iTunes library with Remote in the same way you play music on your iPhone or iPod touch.
Hi-Speed USB 2.0 dock.
Perfect for flash drives and other USB 2.0 devices, the dock lets you transfer files, photos, and music at hi-speed, right from your keyboard. Up to 40x faster than regular USB!

2-port USB hub.
In addition to the dock, the keyboard also has a conventional 2-port USB hub located on the back, for plugging in your mouse or trackball, and another USB device.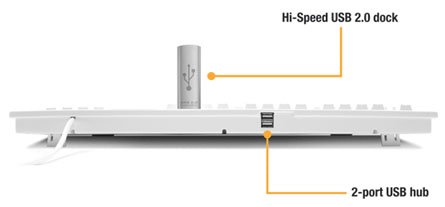 Quiet Dome Switches.
High-quality rubber dome keyswitches provide a quiet tactile feel, yet offer enough resistance to hold the weight of your hands and reduce long-term fatigue.

™ € £ © are easy to find.
For Mac users, hard to remember symbols are printed right on the keys. Simply hold down Option for the bottom-right characters, or Shift-Option for the top-right characters.