PLEASE NOTE: All versions of the Tactile Pro 2.0 are now sold out and have been discontinued.

The Tactile Pro 3 is in production and will be available in Autumn/Winter 2009.
The original Tactile Pro keyboard won a Macworld Editors' Choice Award for "Best Old-School Keyboard", and rave reviews from keyboard connoisseurs. The Tactile Pro 2.0 builds on the best features of the original, and adds a few more!



Computer users who crave the feel of Apple and IBM's quality keyboards of 15 or 20 years ago will love the Tactile Pro 2.0. Unlike other keyboards made today, each key on the Tactile Pro 2.0 is built on an individual Matias Mechanical Keyswitch.

Based on the legendary Alps keyswitch used in the Apple Extended Keyboard and the original Tactile Pro, the new Matias Mechanical Keyswitch recreates the tactile feedback and force curve of the original Alps design, ensuring maximum performance, greater comfort, and faster typing speeds. You will feel the difference immediately.



Sync and charge your iPod®, transfer files at lightning speeds, download your digital photos... The USB 2.0 Dock does it all, and only Matias keyboards have it.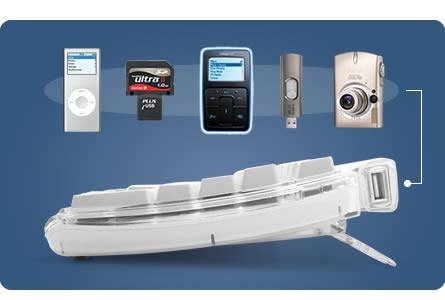 The Tactile Pro 2.0 Keyboard's Hi-Speed USB 2.0 Dock is up to 40 times faster than the low-speed USB 1.1 hubs found in other keyboards. It's also much less clutter than a standalone dock or cable.
Ideal for use with USB flash drives, MP3 players, digital cameras, and other USB or USB 2.0 devices.

The Tactile Pro 2.0 comes in two different models. The White version for Mac, and the Silver and Black version for PC or Mac.





The White Tactile Pro 2.0 for Mac makes it easy to find the ™ € £ © and other symbols – they're all printed right on the keys. Simply hold down the Option key for the bottom-right characters, or Shift and Option for the top-right characters. No need to launch another application to find all those hard to remember key combinations for international characters, accents, punctuation, mathematical and currency symbols.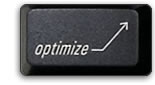 The Silver/Black Tactile Pro 2.0 for PC or Mac comes pre-programmed with Matias' exclusive Optimizer™ technology.*
Ideal for accountants, writers, or anyone who wants to get their work done faster, the Tactile Pro 2.0's Optimizer features put the commands you use most right at your fingertips - giving you split-second access to arrow keys, select and delete entire words, a dedicated TAB key right on the number pad, and much more. Every minute you use the Tactile Pro 2.0's Optimizer features, you save precious seconds.
Click here for more information about the Tactile Pro 2.0's Optimizer features.